Preparation and Characterization of High Performance Dye Sensitized Solar Cells with Silver Nanoparticles in nanocomposite Photoanode
Eli Danladi

Nigerian Defence Academy, Kaduna

Jamila Tasiu

Kaduna State University, Kaduna

Lucky Endas

Greenfield University, Kaduna
Keywords:
DSSCs, Surface Plasmon, Nanoparticles, Natural Pigment.
Abstract
Surface plasmon resonance is the effect of electron oscillation in a structure stimulated by incident light. When noble materials such as Ag, Au or Cu are added into the titania (compact or mesoporous) structure of the sensitized solar cell, the plasmonic effect of such materials will result an improved performance of the device. Placing AgNPs at different position will produce a variety of result. In this work the systematic design and formation of plasmonic dye sensitized solar cells (DSSCs) by integrating Ag NPs nanoparticles (NPs) in two distinct configurations; on the c-TiO2 and on m-TiO2 were reported. The power conversion efficiency (PCE), Jsc and Voc of the reference device shows a value of 0.36 %, 1.89 mAcm-2 and 0.45 V. Upon introduction of AgNPs on the c-TiO2, a PCE of 0.64 %, Jsc of 2.53 mAcm-2 and Voc of 0.46 V were recorded, which improved the PCE ~ 63.90 % over that of the prestine device. When AgNPs is introduced on the m-TiO2, a PCE of 0.71 %, Jsc of 2.83 mAcm-2 and Voc of 0.46 V were obtained which which results to increase in power conversion efficiency (PCE) from 0.36 % to 0.71 %, demonstrating ~1.97 time's enhancement, compared with the reference device without the metal NPs. The improvement is attributed to an increase in photocurrent density due to enhanced light harvesting by silver nanoparticles.
References
Jun, H.K., Careem, M.A., & Arof, A.K. (2013). Quantum dot-sensitized solar cells perspective and recent developments: A review of Cd chalcogenide quantum dots as sensitizers. Renewable and Sustainable Energy Reviews 22, 148–167. DOI: https://doi.org/10.1016/j.rser.2013.01.030
Werner, J. H. (2004). Second and third generation photovoltaics–dreams and reality. Advances in Solid State Physics, 44, 51–67. DOI: https://doi.org/10.1007/978-3-540-39970-4_5
Eli, D., Ibeh, G. J., Ige, O. O., Owolabi, J. A., Ugbe, R. U., Sherifdeen, B. O., Onimisi M. Y.& Ali, H. (2019). Silver Nanoparticles as Nano Antenna for TiO2 Activation and its Application in DSSC for Enhanced Performance. Journal of Theoretical and Applied Physics, 1(3), 88–98.
Onimisi, M. Y., Eli, D., Abdu, S. G., Aboh, H. O. & Ezeoke, J. (2016). Size Effects of Silver Nanoparticles on the Photovoltaic Performance of Dye Sensitized Solar Cells. American Chemical Science Journal, 13(3), 1-8. DOI: https://doi.org/10.9734/ACSJ/2016/24525
D. Eli, P. M. Gyuk, M. S. Ahmad G. I. Baba & S. H. Sarki, "Silver Nanoparticles as Artificial Antennas for Enhanced Light-Harvesting and Charge Transfer in Dye-Sensitized Solar Cells", International Journal of Materials Science and Applications 5 (2016) 214.
C. Chambers, S. B. Stewart, B. Su, H. F. Jenkinson, J. R. Sandy & A. J. Ireland, "Silver Doped Titanium Dioxide Nanoparticles as Antimicrobial Additives to Dental Polymers" Dental Materials 33 (2017) 115.
G. Kovacs, Z. Pap, C. Cotet, V. Cosoveanu, L. Baia & V. Danciu, "Photocatalytic, Morphological and Structural Properties of the TiO2-SiO2-Ag Porous Structures based System", Materials 8 (2015) 1059.
D. Eli, A. A. Kassimu & B. O. Sherifdeen, "Surface-Enhanced Response of Silver Nanoparticles with SiO2 and TiO2 Core Shell for Enhanced dye Sensitized Solar Cells Performance: A Comparative Studies", Journal of the Nigerian Association of Mathematical Physics 43 (2017)
Green, M. A., Emery, K., Hishikawa, Y., Warta, W., Dunlop, E. D., Levi, D. H., Ho-Baillie, A. W. Y. (2017). Solar Cell Efficiency Tables (version 49). Progress in Photovoltaics, 25 (1), 3-13. DOI: https://doi.org/10.1002/pip.2855
L. Shuhan, Z. Xiangyu,W. Bao, Q. Yu, L.Wenhui, Y. Hao, L. Nan, C. Mengwei, L. Haifei & Y. Yingping, "Influence of Ag Nanoparticles with Different Sizes and Concentrations Embedded in a TiO2 Compact Layer on the Conversion E_ciency of Perovskite Solar Cells", Nanoscale Research Letters 13210 (2018) 1.
W. S. Yang, B. W. Park, E. H. Jung, N. J. Jeon, Y. C. Kim, D. Lee, S. S. Shin, J. Seo, E. K. Kim, J. H. Noh & S. I. Seok, "Iodide Management in Formamidinium-Lead-Halide-Based Perovskite Layers for E_cient Solar Cells", Science 356 (2017) 1376.
Z. Lu, X. Pan, Y. Ma, Y. Li, L. Zheng, D. Zhang, Q. Xu, Z. Chen, S. Wang & B. Qu, "Plasmonic-Enhanced Perovskite Solar Cells using Alloy Popcorn Nanoparticles", RSC Advances 5 (2015) 11175.
D. Eli, M. Y. Onimisi, S. G. Abdu P. M. Gyuk & E. Jonathan, "Enhanced Performance of a Dye Sensitized Solar Cell using Silver Nanoparticles Modified Photoanode", Journal of Scientific Research & Reports 10 (2016) 1.
D. Eli, M. S. Ahmad, A. B. Bikimi & O. A. Babatunde, "Plasmonic Dye Sensitized Solar Cells Incorporated with TiO2-Ag Nanostructures", International Research Journal of Pure and Applied Chemistry 11 (2016) 1.
D. Eli, J. A. Owolabi, O. O. Gabriel & E. Jonathan, "Plasmon-Enhanced Efficiency in Dye Sensitized Solar Cells Decorated with Size-Controlled Silver Nanoparticles Based on Anthocyanins as Light Harvesting Pigment", Journal of Photonic Materials and Technology 2(1) 2016 6-13 DOI: https://doi.org/10.11648/j.jmpt.20160201.12
Eli, D. and Gyuk, P. M. High Efficiency dye Sensitized Solar Cells by Excitation of Localized Surface Plasmon Resonance of AgNPs, Science World Journal Vol 14(No 2) 2019, 125-130.
Agnihotri, S., Mukherji, S. & Mukherji, S. (2014). Size-controlled silver nanoparticles synthesizedover the range 5–100 nm using the same protocoland their antibacterial efficacy RSC Advances, 4, 3974–3983. DOI: https://doi.org/10.1039/C3RA44507K
K.L. Kelly, E. Coronado, L.L. Zhao, G.C. Schatz, The Optical Properties of Metal Nanoparticles: The Influence of Size, Shape, and Dielectric Environment J. Phys. Chem. B 107 (30) (2003) 668-677.
Muduli, S., Game, O., Dhas, V., Vijayamohanan, K. Bogle, K. A., Valanoor, N. & Ogale, S. B. (2012). TiO2–Au plasmonic nanocomposite for enhanced dye-sensitized solar cell (DSSC) performance Solar Energy, 86, 1428–1434. DOI: https://doi.org/10.1016/j.solener.2012.02.002
Zhao, G., Kozuka, H. & Yoko, T. (1996). Sol—gel preparation and photoelectrochemical properties of TiO2 films containing Au and Ag metal particles Thin Solid Films, 277, 147–154 DOI: https://doi.org/10.1016/0040-6090(95)08006-6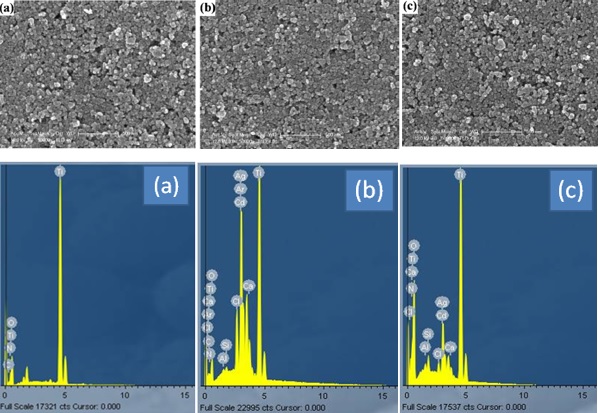 How to Cite
Danladi, E., Tasiu, J., & Endas, L. (2020). Preparation and Characterization of High Performance Dye Sensitized Solar Cells with Silver Nanoparticles in nanocomposite Photoanode. Journal of the Nigerian Society of Physical Sciences, 2(1), 7-11. https://doi.org/10.46481/jnsps.2020.24
Section
Original Research
Copyright (c) 2020 Journal of the Nigerian Society of Physical Sciences
This work is licensed under a Creative Commons Attribution 4.0 International License.